VPS / VDS server - SSD-A1 tariff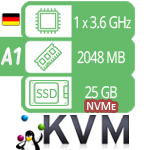 Discount 5, 10, 15, 20% when ordering for 3, 6, 9, 12 months!
---
---
For all tariff plans for virtual dedicated servers, unlimited traffic, in accordance with the Public Offer of our service, the generation of so-called "spurious traffic" is prohibited (equalization of ratios of other providers, DDOS attacks in any direction, the use of torrent clients, etc.).
SSD-A1
SSD-A2
SSD-A3
SSD-A4
SSD-A5
SSD-A6
Disk Space (HDD), GB
25
35
55
80
120
140
RAM, MB
2048
2048
4096
6144
8192
10240
CPU, GHz
1 x 3.6
1 x 3.6
1 x 3.6
2 x 3.6
4 x 3.6
6 x 3.6
Traffic
∞
∞
∞
∞
∞
∞
Root access
Dedicated IP Address
Basic VPS Administration
Operating system (optional)
CentOS, Debian, Ubuntu, Fedora, openSuSe, Scientific
Change your plan for free
Full refund (money back) within 7 days
More details
More details
More details
More details
More details
News
Our blog